february.28.2009




Lately, I've been more of an Anorexic Stylist than a starving one. I'm hungry and bored to the point that I find pleasure in rearranging my DVD collection in alphabetical order. After recently completing school, I constantly think to myself, "What the hell is next for me? What am I going to do? Where am I going? Who do I have to DO?" . . .*sigh* well if all else fails, maybe I could do some modelling?

Pfffffffffftt, YEAH RIGHT. BITCH PUHHHLEASE, SIT DOWN.
Yeah, uhhh surrre, I might throw BlackBerry bitch fits like Naomi Campbell and have been mistaken for being on the 'Kate Moss Diet' in the past, but seriously, you know the world has gone mad cow when you start seeing my face on the cover of a nationwide magazine! But until then, you're going to see my face all over this blog, bitch!

Anyways, being the 'gracious friend' that I am, I allowed (or secretly begged) a good friend, Tim Kuo of Markus J Hair Salon to borrow my head for a hair competition photo shoot that he was entering. Tim is a amazing hair stylist with a passionate flair for intricate detail and strong attention on the coiff of anyone placed in his chair. He's definitely a creative artist who is not afraid to push boundaries to the extreme. Best of luck with the competition buddy and I'm sorry for not sending out a disclaimer notice stating that the model will not accept any responsibilities or should not be held liable of anything during the competition due to the model's unfortunate visage.


But besides that,

Team Tim for the win bitches!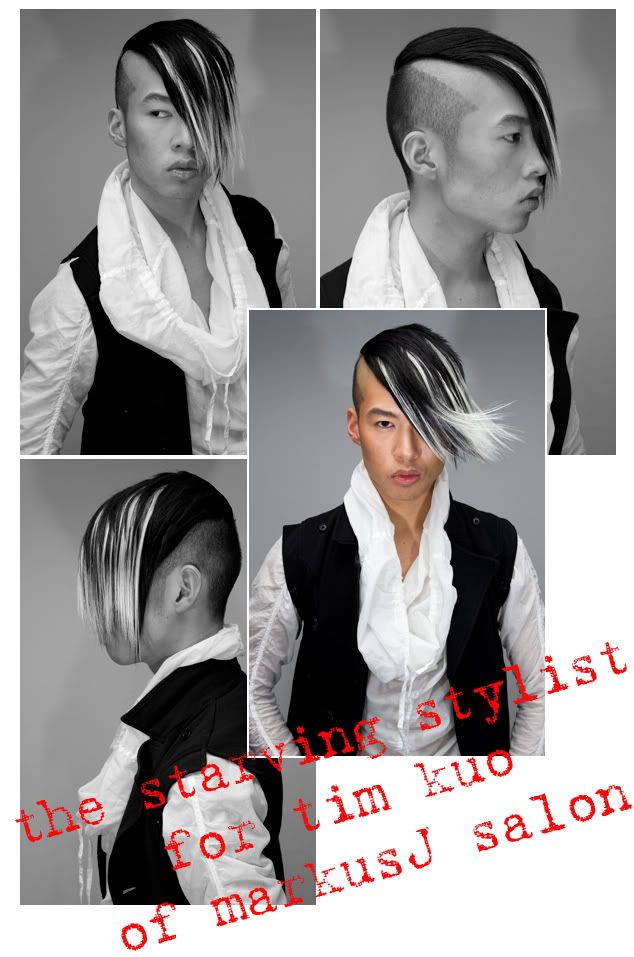 Hair by: Tim Kuo
Make-up by: Brandy Kirkham
Photographer: Matt
Wardrobe provided by: JNBY
www.jnby.ca


Markus J Hair & Well-Being - Hair Salon in Kitsilano, Vancouver

www.markusjhair.com


They will always find some pathetic way to haul your ass aside at the airport like a toddler on a wrist leash and then try to charge you custom tax on anything your wearing that looks expensive or new, even though its not! Lordy hell, who knew these un-tweezed bullies could spot out an authentic Chanel out of a sea of basement made, Chinatown sold Channel bags!
My lovely sister was pulled over by custom officers at the airport due to her gorgeous and classic black caviar leather Chanel purse that was recently purchased in Vancouver before she left on her trip to Los Angeles. Officers argued that she had bought the $3,200 luxe item while on her trip and did not claim duty on it; therefore she was charged $1,120 on taxes. Being born the spicy diva she is, she pulled out her alter ego, Ming Ling-homegirl-from-Ch-Chinatown and just about ripped the officer a new one! After 2 hours in custom holdings and background checks on my sister and the precious bag, she sashsayed out of the office, whipping her bag side-to-side with her head held high like she could do no wrong. *snap*


So, the moral of story . . .

1) With every expensive designer handbag, keep a copy of the receipt of the purchase in the small zip compartment in the bag to show proof of purchase.

2) Suck in that material pride of yours and claim that your 'Stam Bag' is a fake given to you as a gift that was bought in Chinatown by your crazy widowed aunt with 10 cats.

3) Leave the expensive handbag at home when travelling. Wait wait wait. . .FUCK THAT. There is no bloody reason why we fashionistas and misters have to forfeit style in order to travel. We might not always travel first class, but hell, we will come off the plane looking like first class residents!






-Px

By The Starving Stylist on 2/20/2009
Filed Under:
THE STARVING STYLIST COMING TO A CLOSET


NEAR YOU!